AKF often finds itself required to act as a marriage counselor trying to improve the relationship between technology and business 'spouses'. In fact, we rarely find the relationship between these partners without at least some opportunity for a 3rd party, external, unbiased perspective to produce some suggestions. Given the backgrounds of the prototypical CEO or CTO, it is no surprise there are misunderstandings, miscommunication, and misalignment – there is a substantial experiential chasm between the two...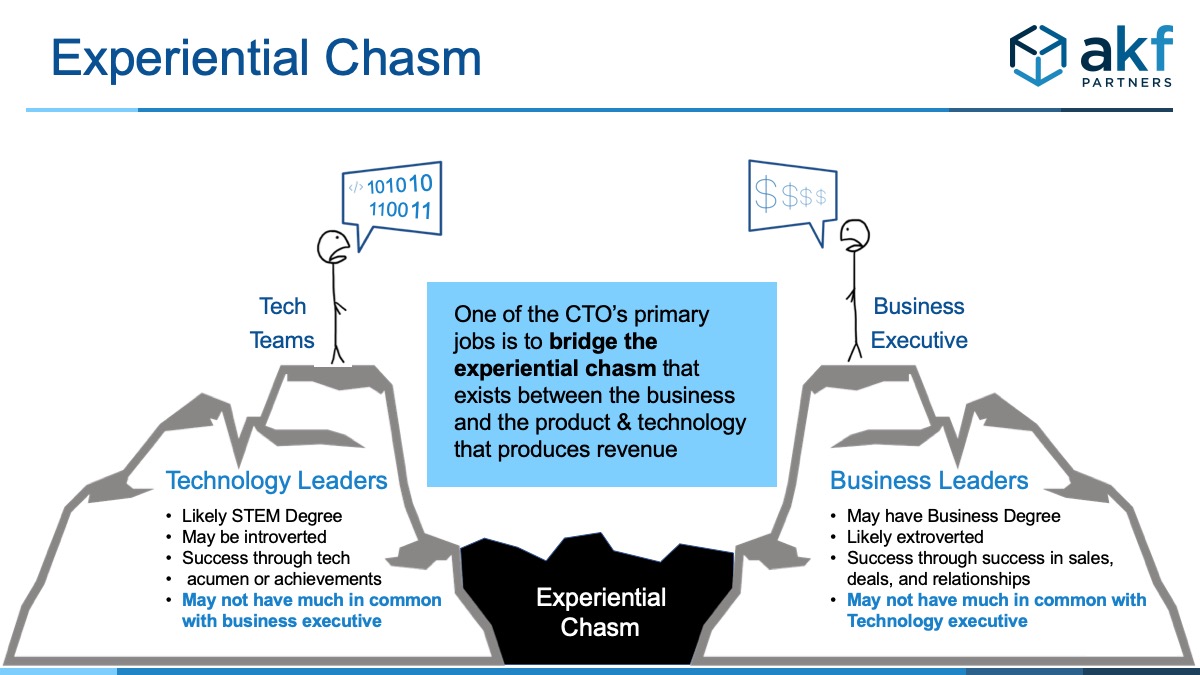 Recognizing how big this chasm, where it is narrow vs. wide between the two partners is vital to bridging this gap. One of the key aspects we try to immediately ascertain is whether there is a true partnership in place, versus a customer / order taker mindset. How much trust is currently present? Is a single language being used by the two, or is it bits and bytes vs. $$$?
Whether you are a CTO or a business executive, we suggest you go through the following set of questions. Even better, ask your tech or business partner to do their side and discuss and compare! Additionally, this self-analysis shouldn't occur only at the highest levels, but all throughout the organization, particularly if you're organizationally aligned.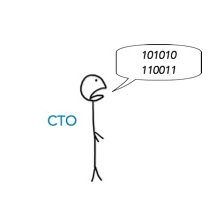 Questions for Technology Leaders:
When did you last come up with a proposal to increase revenue?

The best and perhaps most extreme, example of this is AWS, where the technology team took an internal solution built to improve Amazon developer productivity, recognized that all developers must face the same infrastructure challenges, and proposed it to Bezos as a new business line. Are you constantly seeking out ways in product, marketing, sales, technology to generate additional revenue, or solely focused on cost containment?

Do you understand the balance sheet, statement of cash flows and income statement of your company?

These artifacts describe how the overall business community, your investors, are measuring you. Learning the meaning of these documents aids in spanning the bits & bytes vs. $$$ language barrier. This is where getting an MBA provides the most value.

Can you represent the importance of addressing technical debt to your business peers?

You are responsible for the technical debt in your codebase, not your business. If you can't explain the true ongoing cost of the incurred debt, if you can't justify the periodic pay down of that debt, you frankly are failing as a technology leader, at least if you have a business partner willing to listen.

Can you state the highest priority issues facing your business peers today?

We love the following quote from Camille Fournier ( former CTO of Rent the Runway and author of The Manager's Path):

"If the CTO does not have a seat at the executive table and does not understand the business challenges the company is facing, there is no way the CTO can guide the technology to solve those problems"

Do you feel your team, your engineers, understand how their daily activities affect the business and your customers?

I once left a company producing a relational database to then join a startup that had built its application on top of that RDBMS. I quickly found issues that I knew could easily and cheaply be addressed but had never heard of these pain points until I personally experienced them! I vowed to never be so removed and distant from my customers again. Zappos requires all new employees to take a month-long customer service stint, spending 40 hours on the phones. During the holiday peak, all employees are expected to jump on the phones to ensure the same level of response as the rest of the year. Don't just "eat your own dog food", but understand how your customers eat it.

Do your engineers understand what each functional product component costs to build, maintain, and support - relative to the value it brings to the business? Do they push back against product and business when there's a minimal or even negative ROI?

A great vehicle to explain revenue flow is a Dupont diagram, mapping out the user experience flow, and assigning value across that flow. That value makes it clear that say, a .5% improvement in relevant search results can turn into a .025% uptick in items in cart, that turns into $X increase in revenue.

Do you provide early feedback on the likelihood of making key dates? Is that feedback consistently incorrect?

If you've ever had your house remodeled, you'll agree that there's little that is more frustrating than a contractor who consistently under-delivers, and it late on agreed to delivery dates. You've got plans hinging upon the construction completion date, and when that date slips, it destroys your plans. Your business peers feel the same way when your date slips, or scope gets cut. Are you actively seeking out the causes of such delays? How can you be transparent with your partners when you don't understand the causes?

Does your technology team measure themselves against metrics that are meaningful to the business?

Ensure your teams are measuring the outcome of their work, not simply the completion and delivery of that work. And, that outcome measurement should be made in business terms. Velocity should always be measured, but an increase in velocity is frankly less important than moving targeted business needles in the desired direction!

What are you least transparent about, and why?

Typically, the issues we are most reluctant to share are those we ourselves are uncomfortable with. The answer to this question can show you the areas where you are paying the least attention.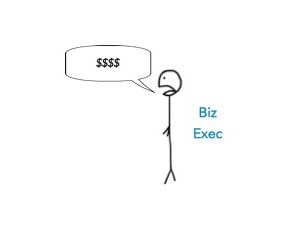 Questions for Business Executives:
What is your reaction when you hear that a date has slipped?

"Shit happens" is too simple of an explanation, but there are many reasons why a key date slips. There might have been a change in prioritization, driven from the highest levels. There could have been critical site issues that pulled the team away from new functionality. The scope could have been grossly underestimated, or have grown for innumerable reasons along the way. The key thing is that your technology partner should be able to explain the causes - so don't be afraid to ask for an explanation. Just don't start the conversation by pointing a finger.

Do you feel technology as a whole understands the business? Are engineers close enough to your customers to really understand the value you bring them?

I am always dismayed when I find engineers who don't understand what value, and how, your product provides the customer. An engineer shouldn't only be motivated by technology problems but should appreciate the value their product provides. I had the great pleasure of witnessing a company adopt Agile, resulting in tighter bonds between customers, business, and technology. A particular engineer had never understood the value of their product, not to just to their immediate customers but their customers' customers. As this was a medically-oriented product, that end value was basically a better life. The engineer had worked at this company for a few years, yet never witnessed the true value of the product he had been building – a tragedy in my book. Make the effort to ensure everyone in your company understands the value your products provide, and the revenue stream flowing into the company – it will absolutely be worth the investment!

Do you as a business leader spend as much time attempting to understand the technology team as they are hopefully trying to learn to read financial statements? Any time?

I absolutely love when a business leader is present at an AKF workshop/engagement. I certainly appreciate the dedication of time, but more importantly, the desire to better understand. Have you asked your technology team for a walkthrough of how the systems work? What their challenges are?

Do the business leaders understand how to ask questions to know whether dates are both aggressive and achievable?

Your car has a redline. Do you typically exceed that redline RPM? Doubtful. Do you understand when your technology team has over-extended themselves? When they have relied upon heroics to meet a delivery?

Does the business spend time in the beginning of a product life cycle figuring out how to measure success?

The entire company, business / support / sales / marketing / product / technology teams should be driving to achieve important business goals, and measure themselves by the progress, the outcomes, towards those goals. Delivering new functionality is critical, but more important are the improvements in business metrics that functionality brings. Are you measuring how you are affecting business metrics?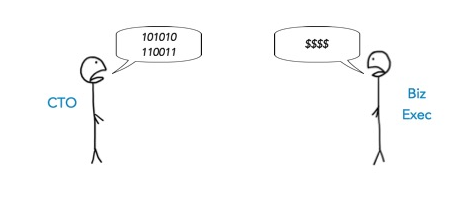 Questions for Both:
What are your shared goals?

We are firm believers in OKRs (Objectives & Key Results), shared across the entire company. Alignment around these goals help frame discussions.

Who gives more than takes? How are compromises reached?

There should be no real scorecard on this (classic passive/aggressive move, don't go there), but can you provide examples of where you met in the middle? As in every relationship, it is critical to both give and take.

Do you meet mostly by exception? When was the last time you did lunch?

I hated my dentist for years until I met him on a soccer field and saw the whole individual, not just the guy that causes me pain. Commit to meeting your technology/business partner on a regular basis, including periodic out-of-the-office meetings.

What is your "Marriage Math"?

Psychologist John Gottman, Ph.D., when trying to determine a methodology to predict which marriages will last and which will end in a divorce, found that when the ratio of positive to negative interactions fell below 5:1 (5 positive for every negative interaction), divorce was likely. Do you have a healthy line of communication with your partner, or does the communication quickly degrade into contempt and name calling?
Hopefully, now you agree that a look at your relationship with your technology/business partner is of value. Every relationship requires investment and commitment on both sides. Consider bringing AKF to help facilitate these discussions – we are excellent marriage counselors.